THEORETICAL STUDY OF THE PHENOMENON OF TAXONOMY IN LINGUISTICS
Keywords:
Hyponymy, taxonomy, meronymy, antonymy, synonymy, type, kind
Abstract
To study and analyze different types of data and information expressed in English and Uzbek through taxonomy, based on regional culture, their differences and similarities, as well as their contradictions focused.
References
D. Alan Cruse "Lexical semantics", Cambridge, 1986, 310 pp.
R. Paul Kroeger "An introduction to semantics and pragmatics", Berlin, 2019, 482 pp.
Dirk Geeraerts "Theories of lexical semantics", Oxford, 2010, 341 pp.
Nick Riemer "Introducing semantics", Cambridge, 2010, 460 pp.
Morton E. Winston, Roger Chaffin and Douglas Herrmann. "A Taxonomy of Part Whole Relations", Cognitive Science 11, 1987, 417-444 pp.
Peter A. Michalove, Stefan Georg, Alexis Manaster Ramer. "Current Issues in Linguistic Taxonomy", Annual Review of Anthropology, Vol.27. 1998, 451-472 pp.
J.Sh. Djumaboeva and N.K. Sobirova. "The study of hyponymic taxonomy in English linguistics and the lexical and semantic relations of hyponymy", Ilkogretim - Elementary Education Online, Vol. 19(4), 2020, 870-878 pp.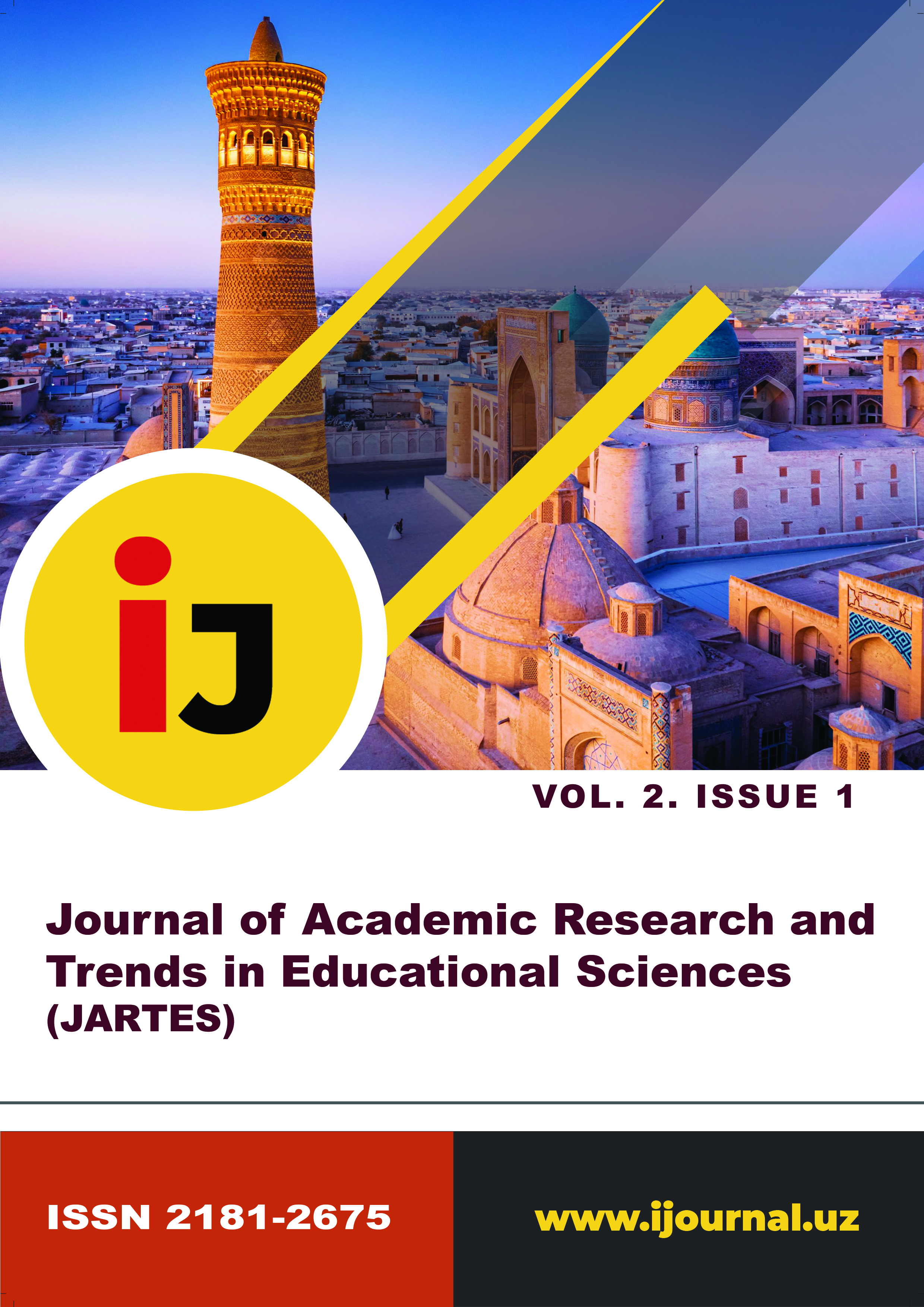 How to Cite
Yusupova, D., & J.Sh. Djumaboyeva. (2023). THEORETICAL STUDY OF THE PHENOMENON OF TAXONOMY IN LINGUISTICS. Journal of Academic Research and Trends in Educational Sciences, 2(1), 82–86. Retrieved from http://ijournal.uz/index.php/jartes/article/view/407
License
Copyright (c) 2023 Dilfuza Yusupova, J.Sh. Djumaboyeva
This work is licensed under a Creative Commons Attribution-NonCommercial-NoDerivatives 4.0 International License.
All Rights Reserved.